PRIVACY POLICY
GDPR | PRIVACY

Updated: June 2018
– P R I V A C Y . P O L I C Y
4T CONSULTANTS value your privacy and do not collect data from visitors to our website via cookies, or without you personally requesting information, or providing details via our online contact form. We are committed to providing you with the highest levels of customer service. This includes protecting your privacy and personal information. Set out below is information that is required to be communicated to visitors of 4T CONSULTANTS.
Personal information held by 4T CONSULTANTS may include your name, address, contact phone number, email address, together with other information which you have elected to provide 4T CONSULTANTS. This includes request to join our Newsletter, our online contact form, or information provided by you in order to undertake commissioned work.
If you choose not to provide certain personal information, 4T CONSULTANTS may not be able to provide you with the services you require, or the specific response you have requested.
Your personal information is not collected for promotional and marketing of services to you (including by way of direct mail, telemarketing, SMS and MMS messages). In relation to marketing and promotional material, 4T CONSULTANTS will not email such material to you unless you have requested the information to assist your business interests.
4T CONSULTANTS comply with Data Protection Act 1998, together with Additional Information as outlined and required by the GDPR. We respect your privacy.
HOW WE COLLECT PERSONAL INFORMATION
directly from you, when you provide information to our office, authorised staff, by phone or via our online contact form.
only with your direct consent and permission, from approved consultants, or related companies in order to undertake your work. This may include registers, registrations, equipment, services.
from publicly available sources of information;
from 4T CONSULTANTS own records for the purpose of undertaking commissioned work.
USE OF PERSONAL INFORMATION
Personalisation of content and business information
Account setup and administration
Delivering Marketing and Events Communication
Internal research and development purposes
In the course of providing goods and services
Meeting Taxation, Audit and internal record keeping.
The content outlined in the pages of this website is for your general information and use only.
4T CONSULTANTS respect your privacy. All data is processed and stored according to our privacy policy and complies with  The Information Privacy Act 2009 (Qld) (IP Act). We recognise the importance of protecting personal information of individuals which govern how information is collected, stored, use of, and disclosing of personal information.  Information is not provided to third parties, nor is data transferred to any unauthorised organisations or personnel.
4T Consultants protect your data against:
accidental loss
unauthorised access, use, destruction, or disclosure
4T Consultants:
ensure business continuity and disaster recovery
restrict access to personal information
conduct privacy impact assessments in accordance with the law, terms & conditions outlined in our agreement
implement business policies which protect information in the course of business.
train staff and contractors on data security
manage third party risks, through use of contracts, policies and procedures reviews, workplace health and safety, quality assurance
PROCESSING OF PERSONAL DATA
is by way of consent;
contract;
legitimate interests;
vital interests;
public task;
legal obligation.
4t CONSULTANTS process personal information supplied by you for the purposes outlined. You are within your rights to inform us and withdraw or manage your consent.
The content outlined in the pages of this website is for your general information and use only.
Neither 4T CONSULTANTS, nor any third parties, provide any warranty or guarantee as to the accuracy, timeliness, performance, completeness or suitability of the information and materials found or offered on this website for any particular purpose.
You acknowledge that such information and materials may contain inaccuracies or errors and we expressly exclude liability for any such inaccuracies or errors to the fullest extent permitted by law.
HOW LONG DO WE KEEP YOUR PERSONAL DATA
4T CONSULTANTS in compliance with the GDPR, do not retain data for longer than is reasonably necessary. Please contact our office if you wish to view our 'Data or Records Retention Schedules'.  All data is securely disposed of once it is no longer required, as outlined in our Quality Assurance, Policies and Procedures.
4T CONSULTANTS in compliance with the GDPR, respect the right of your personal data, and accessability to that data, upon your direct request, and to be able to readily access, manage, withdraw, update or control your personal data.  In respect of:
access to personal information
correction of records, personal information, data on file
withdrawal of consent
data portability
restriction of processing, or objection
lodging a compliance with the Information Commissioner's Office.
4T CONSULTANTS acknowledge consumer rights for data, appropriation of data, and accordance of data entrusted to our care. Full disclosure will be made upon request to clients – Pursuant to producing identification, clearance for authorised personnel, security protocols implementation is met.
REFERENCES & LINKS TO OTHER SITES
4T CONSULTANTS do not take responsibility for resources, links from our website.  In so doing, this does not constitute endorsement, nor do we take responsibility for the content, or information contained within any linked website.
Registration Effective: 01 July 2000, QLD 4720
OFFICE:  + 61 (07) 4982 4100
EMAIL:  ADMIN @ 4T.COM.AU
We do not use Cookies.  We respect your privacy.
– P R I V A C Y . P O L I C Y
In order to deliver the services you require, 4T CONSULTANTS may need to provide personal information to consultants who undertake work on behalf of 4T CONSULTANTS. Your personal information is disclosed only in relation to 4T CONSULTANTS providing its' services to you.  This may include site address, specification, instructions, procedures, data, solutions based information relating to your Company and as supplied by you in order to complete the scope of works.  At all times, 4T CONSULTANTS take steps to ensure that all Consultants and affiliated organisations are bound by confidentiality and privacy obligations in relation to the protection of your personal information. 4T.COM.AU
Multi-Award Winning Consultants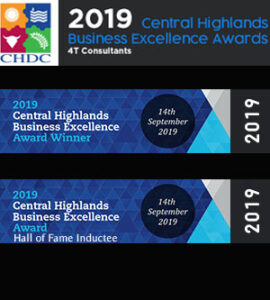 GET IN TOUCH
T  +61 (07) 4982 4100
E  admin @ 4t.com.au
A PO Box 1946, Emerald QLD 4720