EFFECTIVE WASTE MANAGEMENT
Well planned and effective waste management strategies will reduce costs, as well as minimise any potential liability and/or prosecution of individuals and companies.
4T has worked with numerous companies to address specific waste problems and wherever possible to recycle | reuse the by-products, and or waste for beneficial uses.
Contaminated Land Assessments
Landfill or Waste Facility Design Assessments
Landfill or Waste Facility Environmental Evaluation Reports
Landfill or Waste Facility Site Redevelopment and Management Plans
Landfill or Waste Facility REMP
Landfill or Waste Facility TEP
Landfill or Waste Facility Stormwater Management Plans
Waste and Environmental Training

Reuse of waste water for irrigation and crop production
Reuse and recycling of waste discharges and liquid by-products
Management and reuse of drill waste from CSG and exploration drilling activities
Composting of waste from drilling, industrial and urban waste
Management and reuse of waste and produced water for agricultural and other uses
Management and reuse of feedlot waste for beneficial uses
Waste audits and recommendations for improved waste management.
Because each situation is different, we work with each individual client to address their site-specific waste problems.  Our aim is to solve their particular issue, and find innovative ways to recycle, reuse and/or to minimize the cost of disposal, whilst meeting all statutory requirements and corporate policies.

Our successful waste management projects (e.g. drilling waste recycling) have resulted in significant savings for clients and produced more sustainable outcomes.
For more information please contact: 4T.COM.AU
Multi-Award Winning Consultants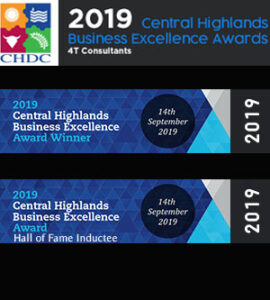 GET IN TOUCH
T  +61 (07) 4982 4100
E  admin @ 4t.com.au
A PO Box 1946, Emerald QLD 4720