Monitoring programs ensure that, in the process of extracting economic production, adverse environmental impacts upon our surface water resources are minimised.  It is therefore vitally important that monitoring programs identify and take into account the environmental values of the water resources.
Practical Applications of Surface Water Monitoring:
Water management plans
Land and Water Management Plans (LWMP)
Design and operation of surface water monitoring programs
Compliance with Environmental Authority conditions
Receiving environment monitoring, REMP design and reporting
Ecosystem health assessments
Macroinvertebrate studies (AusRIVAS)
Design and manage dewatering, recycling and reuse programs
4T has been monitoring, sampling and analyzing surface water since 1996. We have therefore developed significant in-house experience and knowledge that we bring to our clients.

 We understand very well the importance of accuracy, reliability and timeliness of sampling and analysis data to our clients.  The 4T team are trained and competent for collection of surface water samples, water quality testing, sample management, water monitoring equipment and interpretation of the results, so our clients know they can depend upon the accuracy of the data we provide for their planning and compliance.
All our surface water services meet (or exceed) the requirements and guidelines in:
DEHP Monitoring and Sampling Manual, (2009)
AS/NZS 5667.4:1998,
AS/NZS 5667.6:1998
AS/NZS 5667.1:1998
AS/NZS 5667.10:1998
Breaching environmental obligations can incur significant financial penalties, along with the damage of adverse publicity.  A well designed water management plan can avoid these potential impacts.

SURFACE WATER QUALITY TRAINING

4T also provides training in water monitoring and interpretation of results.  This is particularly valuable for clients who need their own personnel to collect samples.  Our clients find this particularly valuable during the wet season, when access to monitoring points by qualified samplers is restricted and others have to step in.  Our training course ensures that everyone taking your samples is using the same, correct techniques, so the samples will be both accurate and replicable.
Our surface water sampling course is an accredited unit in the Certificate III in Water Quality Monitoring Course.
For more information please contact: 4T.COM.AU
Multi-Award Winning Consultants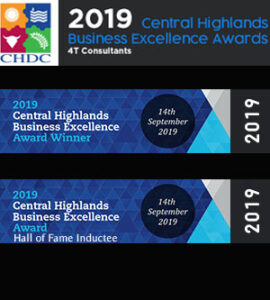 GET IN TOUCH
T  +61 (07) 4982 4100
E  admin @ 4t.com.au
A PO Box 1946, Emerald QLD 4720