MONITORING . ANALYSIS . EQUIPMENT
To help our clients meet their regulatory and safety obligations, 4T Consultants provides noise monitoring and analysis services and equipment for all situations, including agricultural, industrial, mining and urban locations. We provide both attended and non-attended monitoring and have a range of handheld and automated equipment for short term or continuous monitoring.
4T has partnered with specialists to provide detailed modelling, analysis and reporting.  This partnership provides clients with a site specific, yet cost effective service.
All 4T field staff are trained and competent and all monitoring complies with relevant State and National Standards.

Basic noise level checks, or spot checks

Longer term noise monitoring for compliance with regulatory obligations such as Environmental Authorities or Local Government regulations.

Predictive modelling in the approvals process for major projects.  

Noise and vibration monitoring for blast management on mine sites

Noise control investigations.
4T's noise monitoring experience includes agricultural facilities and machinery, mining sites, residential, construction and industrial sites and factories.  So whether it is a one-off assessment in a workplace or longer term real time monitoring that is needed, we will work to find the most suitable solution and program.

For environmental noise measurement we use one-third octave measuring equipment, and the filters conform to the requirements of Australian Standard AS/NZS 4476:1997 Acoustics — Octave-band and fractional-octave-band-filters.

Noise measurements are carried out in accordance with the folloing Standards:
DEHP Noise Measurement Manual (2000) and the following Australian Standards:
AS1055-1997 Acoustics — Description and measurement of environmental noise.

Part 1: General procedures
Part 2: Application to specific situations
Part 3: Acquisition of data pertinent to land use

AS1259-1990 Acoustics — Sound level meters

Part 1: Non-integrating
Part 2: Integrating-averaging

AS2659-1988 Acoustics — Guide to the use of sound measuring equipment

Part 1: Portable sound level meters

AS/NZS 4476:1997 Acoustics — Octave-band and fractional-octave-band-filters
For more information please Contact 4t. 4T.COM.AU
Multi-Award Winning Consultants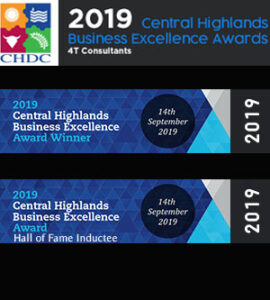 GET IN TOUCH
T  +61 (07) 4982 4100
E  admin @ 4t.com.au
A PO Box 1946, Emerald QLD 4720