A large portion of 4T's environmental monitoring and management work involves measuring the flows and water quality of our rivers and streams.  As many of the sites we monitoring for our clients are remote, we install automatic monitoring stations that measure flow rates and take regular water quality samples.
But to accurately estimate stream flows, we need to measure and map the shape of the stream or river bed.  This process is known as Hydrography.
Practical Applications of Hydrography:
Establish stream flow ratings curves to measure flow for use with automatic water monitoring stations and gauge boards.
Measure flows for water discharges, flood assessments and Receiving Environment Management Plan (REMP) monitoring.
Water storage surveys to establish sediment deposition and volume changes.
Monitor stream-bed changes following wet season flows and re-establish flow curves.
Monitor  water storage depth and volume changes over time.
4T team members have undertaken hydrographic training , and we have partnered with specialists who can conduct larger projects in cooperation with 4T .

4T uses several methods to gauge streams, dependant upon the situation:
Land survey hydrographic methods which measure the profiles and calculate depth-flow relationships (when this can be achieved safely)
Small scale acoustic doppler units for shallow flowing streams (e.g. Flowtracker™).
Larger acoustic Doppler units (e.g. Sontek M9) and floating platforms for larger flowing streams and water storages.
Specialised sonar equipment for very deep waterways and storages.
4T Consultants uses our Sontek River Surveyor for small-scale stream gauging and water storage profiling.
For more information please Contact 4t. 4T.COM.AU
Multi-Award Winning Consultants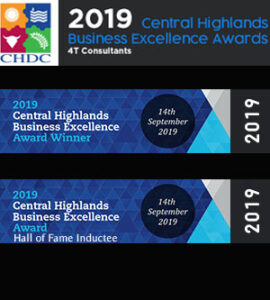 GET IN TOUCH
T  +61 (07) 4982 4100
E  admin @ 4t.com.au
A PO Box 1946, Emerald QLD 4720