Dust and "Particulate Matter" (referred to as PM) are air pollutants that can cause nuisance and serious health problems.
All air borne particulate matter is made up of particles of varying sizes and shapes, and the size of the particles influences the potential health dangers.   Therefore, health and environmental authorities require organisations  to monitor what particulate matter is released into the environment.   Particles less than 10 micrometers in size are the ones that are of real concern, because when they are breathed into human lungs, or even get into our bloodstream, they accumulate within our bodies.





Applications of air quality monitoring:
Depositional dust monitoring for Environmental Authority compliance and Environmental Impact Studies
Air quality (e.g. PM10 and PM2.5) monitoring for Health and Safety, Environmental Authority compliance, Health and Safety
Air quality modelling for Health and Safety planning
Air quality modelling so that risk can be assessed and mitigated
4T provides design, consulting and monitoring services for all air quality monitoring and testing.
Based on client requirements, we can provide attended and/or non-attended monitoring programs.  We have trained and competent monitoring personnel, and can supply, install and maintain suitable monitoring equipment for each situation. Our customised environmental monitoring equipment includes easy-to-install automated air quality monitoring equipment, weather stations and depositional dust gauges.
4T has partnered with technical specialists in air quality modelling and interpretation, so our services can cover all aspects of air quality from single point monitoring to automated air quality monitoring networks that include telemetry and real-time monitoring.
Dust depositional monitoring and sampling meets AS/NZS 3580.10.1:2003 requirements. Air quality monitoring is carried in accordance with  AS/NZS 3580. 4T.COM.AU
Multi-Award Winning Consultants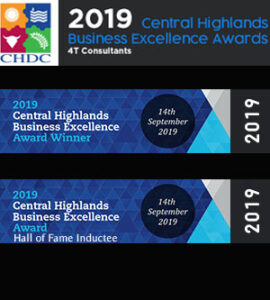 GET IN TOUCH
T  +61 (07) 4982 4100
E  admin @ 4t.com.au
A PO Box 1946, Emerald QLD 4720